Talka's 2020 Annual General Meeting
On July 29th, Talka held its annual general meeting which is summarized as follows;
Members received the reports of the Chair of the Board, CEO, Loans Officer and Audit Committee and approved the 2019 annual financial statements audited by MNP LLP (a copy can be found on Talka's website)
The membership also approved the appointment of MNP LLP as external auditors for the year ended December 31, 2020.
The Nominating Committee presented its' report and advised the membership that Marijus Gudinskas, Vidis Vaiciunas were acclaimed for three-year terms and Loretta Stankus was acclaimed for a one-year term.
Members also approved bylaw amendments to 8.2 & 8.10 recommended by the Financial Services Regulatory Authority of Ontario and approved by the Board related to conducting virtual meetings during any declared state of emergency that prohibit mass gatherings of less than 20 members.
The Board and Staff wish to express their gratitude to the members of Talka Credit Union for their patience and understanding during the COVID-19 pandemic especially with regards to the delay in scheduling the AGM and 65th Anniversary celebrations.
Bursary Nominations
The Bursary Committee consisting of three members of the Board has been established for the coming year and wanted to remind members of the requirements and timing of student submissions as follows;
Applicant must be:
1. A member in good standing at Talka Credit Union for a minimum of 1 year.
2. Registered full time in a government recognized higher learning facility.
Applicant's submission must include the following information:
1. High school or previous year's government recognized higher learning institution's academic transcript. (Must clearly show courses and grades achieved)
2. Anecdotal written proof of community involvement. (Organizational responsibilities)
3. Brief autobiography that would include personal and academic goals.
4. List of any other bursaries received by the application deadline from any other sources.
Timelines:
1. All bursary submissions and supporting documentation must be submitted to the CEO by January 31st, 2021. (Drop off in a sealed envelope or email Ron Smith at rsmith@talka.ca)
2. Scholarships will be announced and presented at the Talka's Annual General Meeting.
International Credit Union Day/Community Partnerships
Credit Unions around the world celebrated International Credit Union Day on October 15th. This years' theme centered on celebrating the members and local communities #creditunions serve, and in recognizing all the great individuals and small businesses who support the credit union difference. Love your community, love your CU! #ICUDay.
In honour of #ICUDay, Talka Credit Union has made cash donations to several local charities, in addition to supporting the Kirkendall Food Drive by collecting donations of canned foods and various dry goods within the neighbourhood for those families in need.
5.9% Balance Transfers for 6 Months
We're always looking for ways to help you get ahead with your finances. That's why we are offering you a special 5.9% interest rate whenever you transfer balances to your Talka Collabria credit card.
This means that for every balance transfer between November 1, 2020 – January 31, 2021, you will be charged only 5.9% interest rate for six months. Don't have a Collabria Card? You can apply in Branch or at collabriacreditcards.ca. For existing cardholders, all you have to do is log on to MyCardInfo and select Account Services > Balance Transfer, then follow the prompts to initiate your balance transfer.
Remember that we never charge you any fees for balance transfers to your Talka Collabria credit card. After all, your financial wellbeing is our priority.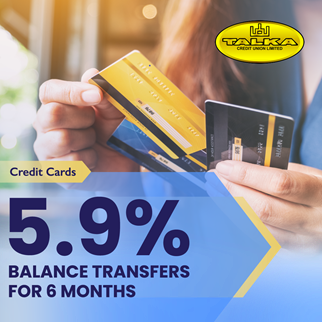 Index Linked Term Deposits
With interest rates at historic lows, now is the perfect time to consider a Talka Index Linked Term Deposit. The Index-Linked Term Deposit is not a typical GIC, but an equity-linked structured product with the key feature of 100% principal protection. This feature provides the best of both worlds to the investor – the safety of a GIC while enabling the participation in the volatility of the stock market. An investor that chooses to invest in an Index-Linked Term Deposit is someone that wants to participate in the stock market to potentially earn a higher return than a standard GIC would provide. This investor wants to protect their principal and is accepting of the risk of zero return at maturity. This investor is not willing to accept the potential losses which could result if they invest directly into the stock market or mutual fund market where they could lose some or all of their principal during a stock market downturn.
The returns are based on the performance of the TSX 60 and you can choose between 3- and 5-year terms which have participation rates of 75% and 125% respectively. For example, the 5-year Nov/Dec 2015 series which has 3 months' left to maturity has a return-to-date of 25.88% over its' initial strike value of 730.36. That's a return of over 5% per year.
Historical performance does not indicate future returns and is only shown for informational purposes.
Sales for the November/December 2020 series ends on December 31, 2020. Please contact Peter Reid, Branch Manager/Financial Services Officer or Ron Smith, CEO for more information.
New and Improved Branch Hours
Talka will be resuming the Saturday morning hours effective October 31st from 9 until 12 am. We have also decided to discontinue the late hours on Fridays and instead open later Thursday nights until 7 pm when most people receive their net pays.
The Board and management still encourage members to stay safe by taking advantage of internet, mobile and telephone banking to pay bills from home and by using debit cards to access thousands of ATMs across Canada through THE EXCHANGE® networks for both cash withdrawals and deposits with no surcharge fees. For a location nearest to you follow the link below.