$150 Million Milestone
We are delighted to announce that, as of last month, Talka's total assets now exceed $150 million. Having reached the $100 Million mark only four years ago, the continued growth is a testament to our competitive rate offering and personalized service.
New Products & Services
To broaden the number of products and services available to Talka members, the credit union has launched the following new products and services;
High-Interest Savings Account
We have now officially launched our new High Interest Savings Account with an attractive rate of 2.00%* to help put a little extra in your pocket. There is no minimum monthly balance needed so you earn interest on every dollar. With no restrictions on transactions, you can access your money as often as you need without worrying about fees. The High Interest Savings Account is also available through online and mobile banking, as well as in branch.
Please contact the Branch to discuss how to open your own High-Interest Savings Account.
*Rates are subject to change, rate stated as of October 21st 2019.
New Partnership with Aviso Wealth
Talka Credit Union has recently entered into a contract with Aviso Wealth, which will allow us to offer a diverse range of mutual funds, self-directed investing through Q-Trade, and an online robo-advice service called Virtual Wealth. This partnership will give members new options on how they can invest, in addition to the savings accounts and GICs currently offered in Branch.
Aviso Wealth, one of Canada's largest financial service providers, was created in March 2018 with the merger of Credential Financial, Qtrade Financial Group and NEI investments.
Peter Reid, our new Financial Services Advisor, is a licensed representative who can assist members in selecting mutual funds along with providing complementary financial planning advice.
Index Linked Term Deposits
Talka has also partnered with Central 1 Credit Union to offer members a term deposit whose rate of return is based on the TSX 60 Index for either a 3- or 5-year term. This product is ideal for members who wish to diversify their investments from fixed income securities but has the advantage of a 100% guarantee of your principal should the actual TSX return be negative with no mutual fees. 
Contact Peter to arrange an appointment and learn more about our new investment products and services.
Talka Annual Picnic
Sincere thanks to all the members who participated in this years' annual picnic on August 17th. While the clouds were on the horizon early in the day, the sunshine came through by noon and it was just perfect weather throughout the rest of the day. Everyone enjoyed the food, free door prizes, raffle draw, ice cream truck and face painting for the kids.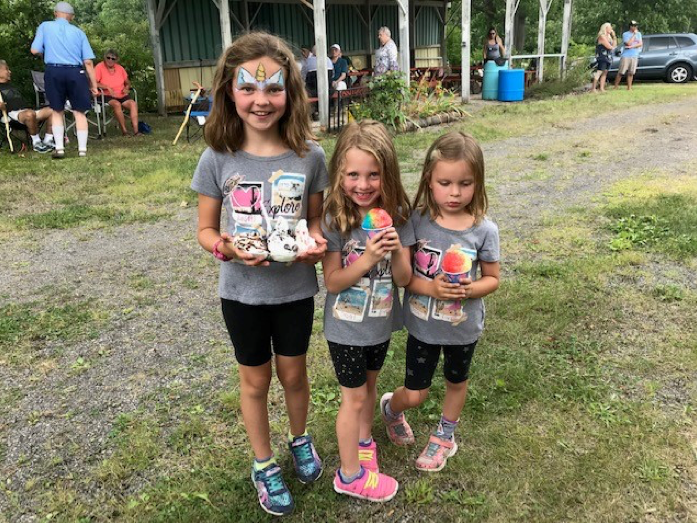 Talka's 65 Year Anniversary
Our next Annual General Meeting scheduled for March 28, 2020 will mark Talka's 65th year of servicing the Lithuanian and Hamilton communities. Stay tuned for more announcements of events to help us celebrate another important milestone in Talka Credit Union's rich history.
New Website
By now, many of you have seen our new website which has many new features and content. If you haven't already done so, please check it out at www.talka.ca and sign up for email distribution for future CEO Newsletters and other Talka communications by completing the form on the Contact Us webpage https://talka.ca/contact-us/ .